Sunset High School


Class Of 1963
In Memory
Susan Arenz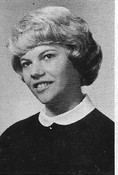 The following information comes from Susan's cousin, Tracey Saucy:
Sue transferred to Sunset after spending her first two years at Grant High in Portland. She attended the University of Oregon for a couple of years and worked as a buyer for the Jantzen Company. She was not married and had no children at the time of her death. There is no one left in her immediate family. Her father died before she did and her only sibling, a brother, John, died in 1999. Her mother died just 5 years ago. Sue passed away on July 16, 1991 at the age of 45 from a sudden hemorrhage.
She was a warm and genuine and loving person and I was her worshiping younger cousin, especially when she was in high school.
Thank you, Tracey, for this information. We hope your cousin and our classmate is resting peacefully.