Sunset High School


Class Of 1963
In Memory
John Beaver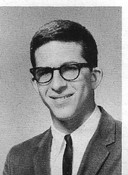 This message comes to us from Gary Wheeler. Thank you, Gary.
John entered the Marines right out of high school and was stationed at Gitmo Cuba. When he returned he entered college at George Fox.
John was a passenger in a car when it left the road and hit a dirt embankment. He was thrown out and was the only person killed.
I was a pall bearer at his military funeral. It was a very sad day. John was a good friend and was my daughter Ann's God Father.
He has been greatly missed all these years.