Sunset High School


Class Of 1963
In Memory
Ned Sunderland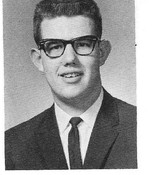 Ned was a good friend through grade school and High School. The last time I saw him (after we graduated) he stopped to give me a ride in his little two passenger MG Sprite. As he dropped me off at my parents house, his last words to me were "I"ll see you later if this damn car doesn't kill me first." It did.
To this day, it makes me uncomfortable when, upon parting, someone says something similar to me.
Hugh Jackson
Ned died on July 13, 1965, just over two years after our graduation. Rest in peace, Ned.