Sunset High School


Class Of 1963
In Memory
Barbara Woolhiser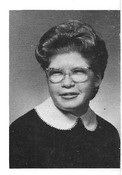 This obituary from the Hillsboro Argus was discovered by Rogers Carter Smith.
Barbara D. Woolhiser, 62, Hillsboro, died Nov. 30, 2006, at Rosewood Specialty Care. Private services have been held.
She was born Jan. 27, 1944, in Dallas, a daughter of Ella M. Barackman and Leonard A. Woolhiser. She was raised in Beaverton and graduated from Sunset High School in 1963.
After one of the first of its kind open heart surgeries to correct a heart defect, she graduated from business college. She worked for the State of Oregon as a records clerk for 22 years. She enjoyed arts and crafts and won many awards for her Brazilian embroidery. She also enjoyed photography and the beach.
Survivors include her mother, Ella Barackman, Hillsboro; two sisters and a brother-in-law, Verlene Cook, Sidney, British Columbia, Canada, and Marilyn and Charles Kyler, Hillsboro; and numerous nieces and nephews and their families.